Introduction
For most us, when we stay in a hotel, whether it be for leisure or work, we expect it to be a comfortable experience. Very few of us enjoy being evacuated due to a fire alarm. Especially if this means the interruption of a relaxing spa experience or being woken up in the middle of the night to stand outside in our nightwear.
In order to avoid these scenario's, and to protect the safety of all guests should an actual fire break out, there is a responsibility on all hotel staff to ensure guests are evacuated safely. Ensuring their protection against a fire means the performance of your fire alarm systems and evacuation procedures are of paramount importance.
Due to their very nature, hotels have a transient flow of visitors, and ensuring each is familiar with the fire drill can be very difficult. This is why it is important to ensure staff are trained and systems are in tip top operating order.
When considering the best type of fire alarm system for a hotel, the most common requirements are; a system that can be effectively monitored and maintained, a need to prevent false alarm activations, the need to provide early detection and warning of a real fire, and a procedure that enables the safe evacuation of all hotel occupants in a controlled manner.
Effective and well-maintained fire alarm systems and fully trained fire officers are essential elements of ensuring hotel guests, buildings and equipment are protected. A well-maintained fire alarm system will ensure compliance with fire safety regulations.
Whether the fire safety of your hotel is the responsibility of an outsourced Facilities Manager or an in-house team of responsible individuals, there is a need to provide documented evidence that fire alarm systems have been regularly checked and tested and that processes are effective.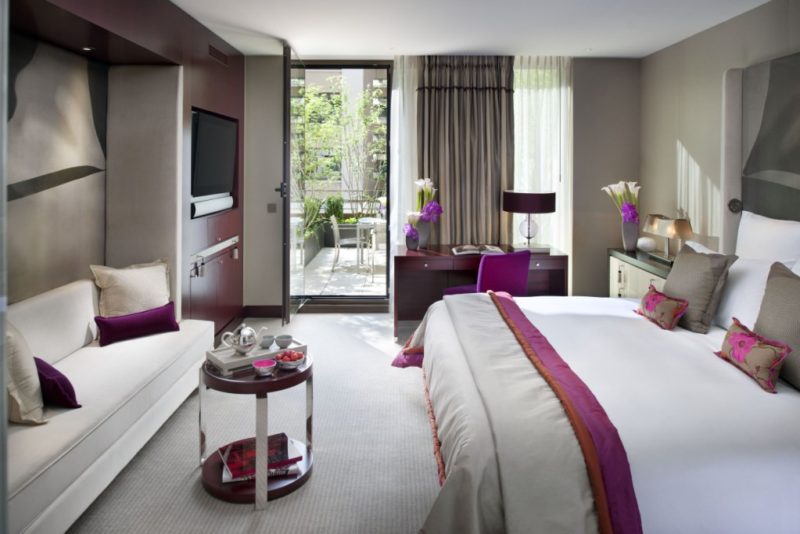 Key Challenges
When installing and maintaining a fire alarm system for a hotel, one of the key challenges Tecserv encounters is the need to help the responsible individual or the fire officer (or team) prevent false fire alarm activations.
Some hotel guests can unwittingly cause false alarm activations. Typical examples include leaving the bathroom door open whilst showering, smoking in no-smoking areas or using exits that have a fire trip sensor. Sometimes activations can be caused by malicious intent such as deliberately setting of a fire alarm or tampering with other fire equipment such as fire extinguishers.
Our Approach
We think it is our responsibility to liaise with responsible individuals at hotels to help them install and maintain effective fire alarm systems and processes.
We also help by suggesting ways the responsible individual can educate staff, particularly the hotel receptionist on how to discuss fire safety with guests without creating fear.
A mistake or prank by a guest who may have enjoyed too much alcohol may pose a fire risk. The key is to understand areas of high risk and install the risk type of fire detector and monitoring equipment.
A Fire alarm sounding is something that hotel managers and guests simply do not want to hear. Unplanned fire alarm evacuations cause disruption and mean hotels having to issue refunds to disgruntled guests.
At Tecserv we help to ensure regular planned maintenance and training takes place and that we help all stakeholders with responsibility for fire safety within a hotel to ensure that their systems and processes are compliant, well maintained and support fire safety policies, procedures and legislation.
The Bulgari Hotel chose Tecserv UK because of our vast experience and proven expertise in delivering high quality fire safety solutions.
Key Features
Specialist Advice
Every business has different fire and security protection needs. We help you understand your business fire and security risks to ensure all potential vulnerabilities are considered.
Ensure Safety & Compliance
We'll ensure your safety and compliance obligations are met so that your people, property and processes are protected. This avoids fines and possible prison sentences.
Business Continuity
The after effects of a fire or a security breach can severely disrupt your business and lead to lost revenue, reputational damage and diminished customer loyalty. Some businesses never recover.
Products We Install
CCTV Surveillance Equipment