The growth in solar power, wind farms and indeed the use of lithium batteries, particularly in electric vehicles has accelerated as we transition more towards generating energy from renewable sources to meet government policy to reduce emissions.
Tecserv UK has been involved in the installation of commercial fire alarm systems on a number of battery storage facilities on renewal energy sites. Whilst these systems will help to alert that a fire has actually started and may prevent it from spreading, it is always better to have an early warning of a fire risk as this may prevent the fire entirely.
Increasingly, we are now offering Li-ion Tamer® technology to provide proactive battery monitoring for energy storage systems and electric vehicles. The solutions can protect large-scale industrial battery storage and usage, as well as monitoring units that can be installed on individual electric vehicle batteries and on EV charging points. We operate a large fleet of electric vehicles as a company and believe these solutions will reduce fire risk in employee and visitor car parks and also whilst vehicles are parked on-site or at home.
Li-ion Tamer®  has been partnered with Honeywell Building Technologies (HBT), and their prominent Xtralis brand since 2010 and this has helped them leverage their worldwide network of distribution, sales, and installation expertise. In 2022, Li-ion Tamer®formed its first partnership to provide technology to the electric vehicle market with Honeywell Safety and Process Solutions (SPS) through a non-exclusive license agreement.
Li-ion Tamer® has developed a trusted reputation for providing technology capable of monitoring lithium-ion batteries in a range of markets. The company now offers a comprehensive range of monitoring technology to reduce the risk of lithium battery fires. They have the ability to detect:
Cell venting (early warning for thermal runaway)
Cell leakage (electrolyte leaks from cells)
Battery coolant leaks (gas phase detection of glycol water mixtures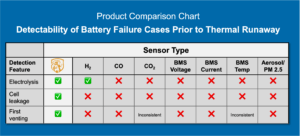 Li-ion Tamer® is designed to provide enhanced safety for your battery systems and can be installed at a wide range of integration points throughout your design and are designed with the flexibility of these markets in mind:
Shipping and storage of lithium batteries
Aviation
Marine
Manufacturing processes using lithium batteries
Electric vehicle storage and charging points
Laboratories using equipment powered by lithium batteries
If you would like to protect your people, property, processes, and brand from the effects of lithium-ion battery incidents using safety products that give you control at the earliest possible indication of failure, please get in touch.