As well as being used externally to monitor the exterior of commercial premises, employers are also finding it beneficial to install CCTV inside the workplace.
However, if you already have a CCTV system installed, or planning to install CCTV to monitor workplace activity, you need to be aware of your legal obligations in order to ensure you are not breaking any legislation in place to protect personal information – CCTV is considered as a means that gathers personal information in that its images show and identify people, and there whereabouts, and what they are doing and when . This Data is classed as personal, and must therefore be gathered, processed, stored and used in line with current legislation.
Legislation to consider
General Data Protection Regulation (GDPR) The GDPR came into effect on 25th May 2018. The purpose was to encompass and strengthen under one piece of legislation the gathering, processing, storing and use of personal data in Europe.

NB: UK companies continuing to do business with the EU post Brexit will need to comply with the Regulation to avoid infringements. Although the UK has exited the EU  the GDPR will still have an impact as part of UK law under the Data Protection Act.

CCTV is classed as a means of obtaining the above and must adhere to its policy. There are many "articles "within the legislation that relates to the use and deployment of CCTV systems, that users of CCTV must comply with. This is on top of firstly registering your organisation with the Information Commissioner's Office (ICO), and detailing the scope, extent and purpose for the proposed or installed surveillance system usage, "the operational requirement" and meeting obligations under the Data Protection Act 2018.
 Other legislation that CCTV use needs to consider :
Data Protection Act 2018
Freedom of information act 2000
The human Rights Act 1998
Surveillance Camera Code of Practise ( England & Wales)
CCTV Strategy for Scotland
You may find that there are further requirements under the above that you should be taking into account when considering the deployment of CCTV – you may need to carry out a Privacy Impact Assessment for example.
Signage
If your business has carried out the relevant adherences to the above legislations,  and considered its impact for its use, you must also have adequate signage to inform persons that CCTV is in use, what its purpose is for and who and how to contact the data controller for that system.
Any person has the right to decide if and when they wish to proceed onto a site or into an area that has CCTV in use. Persons also have the right to be able to make a "subject access request" to obtain and view any CCTV data captured about them.
The Data controller must by law allow this to be done and has 30 days in which to provide the detail, ( a minor admin charge can be made if there would be excessive work to provide such data – ie a shopping centre system where the data controller must identify only the subject making the request,  and obscure or blur out all other persons )
Below are some typical examples of signage.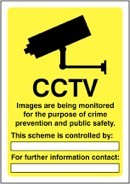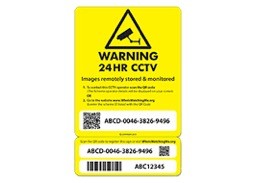 Marketing
Sometimes CCTV may be used to help marketing decision-making and promoting expertise.
For example, construction companies may use time-lapse video to record the progress of a construction project. If you chose to do this please be mindful of the need to inform everyone working on-site, the need for signage, and the need to ensure persons give consent for images to be used.
Some retailers have also started using CCTV to film customer behaviour in order to plan store layouts and displays.
Employee relations
It is very important that you do everything to maintain workplace trust and confidence. So, if you are planning to install CCTV it is advisable to communicate clearly with your employees to explain as honestly as possible the reasons why you are installing CCTV, and if possible, highlight the benefits.
From an employee point of view this may include:
Workplace safety– If there are customer-facing, CCTV is a great way to prevent abusive behaviour and provide high-definition images as evidence to support prosecution. Employees will see the installation of CCTV as part of your commitment to ensuring their welfare.
Health & Safety– the presence of CCTV will often ensure that all health and safety procedures are followed and deter poor working practices and acts of tomfoolery. Hard working employees will feel more valued and confident that safe working practices will be adhered to.
Protecting assets: The presence of CCTV will deter acts of theft and vandalism, which in turn should help improve profitability.
If you would like to learn more about the benefits of installing CCTV surveillance equipment or how Tecserv UK can help you protect your people, processes and property please get in touch or complete the enquiry form.