One of the questions we often get asked by the person responsible for workplace fire, alarm and security systems, is what measures can be implemented to improve workplace security. This question often follows an incident or when their company is preparing to moving to a new build property or expanding into larger premises.
In this article we will explain the following:
What is workplace security?
Types of commercial building security systems
Other security protections to consider
System maintenance
Reporting/Compliance
Training
Summary
What is workplace security?
Under UK health and safety legislation all commercial premises are obliged to provide a safe working environment, which should include to some extent ensuring that staff, visitors and company assets are protected.
The specific requirements are subject to a suitable risk assessment being carried out, which will determine the type, and level of security and protection that may be required. The workplace security system(s) chosen should protect the core assets of any business; its people, processes and property.
Most security measures in a business will provide a mix of electronic and physical security components. For example, an intruder alarm installation to protect premises and assets, which may also include personal attack buttons, a CCTV Surveillance System option and system or process that controls access.
Other security measures may include barriers, gates, fencing, window grills, door shutters and security guards.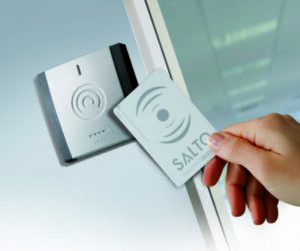 Types of commercial building security systems
Intruder Alarms
Access Control
CCTV Systems
Security tagging
The type of commercial building security systems to install will depend on many varied factors such as the nature of the business undertaken, geographical location, value of assets and the value of stock held on the premises. We recommend that a risk assessment is carried out as this will help to identify these risks and help you decide the best method(s) of security protection.
No matter what the components of the security measures comprise, those chosen must reduce or mitigate the risks identified, and where possible put the people in the business at ease, and offer the right level of safety and protection.
Employees need to trust that the system is functional and effective, and a would be intruder needs to see robust security measures so they are deterred from attacking your building, and its people, stock and assets.
The following are some of the most commonly used workplace security measures:
Deter Intruders
Installing an intruder alarm helps to prevent unauthorised access to your buildings. This aspect of security is crucial. We have all been in workplaces where either company or personal property has gone missing. The negative atmosphere generated is both unpleasant and counter-productive.
All the intruder alarm systems we supply can be integrated to incorporate other security systems such as CCTV systems and access control. These combine to provide extra layers of security for your property.
Control access to the premises
Installing an access control system  offers a further layer of protection. Systems can now be operated by entering an access code, voice, keycard or fingerprint. All systems will ensure controlled access and where required controlled exit from your premises.
This not only helps with fire safety regulations but also enables you to restrict access to certain areas. A networked PC based system will allow roll call functions of people who have entered and exited the building, giving you live data and numbers of employees and visitors in the building.
In most cases, these systems are simple to use and require minimal (if any) staff training. These are also very easily managed. Overall, access control equipment ensures that only authorised personnel have access to given locations within the business.
If used responsibly, access control equipment is not intrusive and will create a safer working environment and discourage theft.
Monitor Activity using CCTV
Installing a CCTV system can be very cost-effective in reducing the need for a physical security presence on site.
Traditionally the primary purpose of a CCTV system was to protect buildings, storage yards and perimeter fencing, but as CCTV camera technology has developed its use has expanded across many applications to include machine condition monitoring and human body temperature monitoring in order to help avoid the spread of infectious diseases.
The CCTV systems that Tecserv UK install generally use remote monitoring of CCTV cameras by an alarm-receiving centre. This method of remote monitoring is becoming an increasingly popular and cheaper alternative to using on-site security staff.
Having installed cameras on site they are connected via the internet to a remote monitoring station and can be live 24/7. This means an audible warning will be issued to any intruder trying to gain unauthorised access. If they do not vacate your building as instructed the key holder of your property and the emergency services will be informed. The CCTV recording also means an accurate description and visual image of the perpetrator can be provided should further investigation or follow up be required.
Security Tagging
There are security measures that can be applied to lock down equipment and ensure their subsequent traceability, but we also advise lots of staff training with regards to how they should store company equipment as well as their own personal belongings. Some companies will provide lockable storage solutions.
Other security protections to consider
Security gates
Barriers
Perimeter fencing
Onsite security guards
Adding gates, barriers and perimeter fencing to your workplace can help to instantly improve security. These measures can help to add extra layers of protection to deter intruders, help you control who enters the premises and gives you greater control of who is onsite at a given time.
Automated gates and barriers are an even more secure option as they can be automatically locked and opened, therefore giving you peace of mind that all gates and barriers are locked when they are meant to be.
Employing security guards to patrol your commercial buildings can improve overall security and help employees and visitors to feel safer and confident in the knowledge that if an incident did occur, a security guard could be on hand.
The options for security guards can also be tailored with a choice of employing your own team or outsourcing to a specialist contractor. Depending on your risk assessment the hours that they patrol your premises can also be tailored to be inside or outside of working hours, or only when properties are unoccupied.
System maintenance
Ensuring your systems are maintained regularly means that they will operate effectively and hopefully for longer. Downtime and repair costs will be reduced, and your people, processes and property will be protected.
Tecserv UK offer a range of flexible maintenance support packages that we can tailor to meet your needs. A maintenance support package not only ensures you have access to immediate support in the event of a system malfunction, it will also help with compliance record keeping and avoid emergency call costs.
Reporting/Compliance
One of the most effective ways to avoid system malfunctions and the legal consequences of poor maintenance is to ensure you have documented evidence that you have ensured regular and thorough maintenance has been carried out, and any issues have been repaired and/or reported to management. By having a maintenance contract in place your service engineer can help you ensure your record keeping is kept up to date.
Training
The final piece in the jigsaw of important workplace security measures is to ensure staff are adequately trained to use systems and follow your security policies and procedures. Well trained staff will be aware of the risks, be able to spot threats and avoid habits and behaviours that may create a security threat or a false alarm activation.
Summary
It's important to take your workplace security seriously, as not having the right systems in place can have major knock-on effects to the rest of your business. For instance, a loss of stock, equipment and materials from theft can affect your profits, product deliverability and customer satisfaction. In addition, a sequence of injuries to staff could leave employees feeling unsafe, vulnerable and looking for a new job.
Effective workplace security therefore protects assets, saves money, and creates confidence in your company as an employer and supply chain partner.