One of the questions we often get asked by the person responsible for workplace fire, alarm and security systems, is what workplace security measure to implement. This question often follows an incident or when their company is preparing to moving to a new build property or expanding into larger premises.
Under UK health and safety legislation all commercial premises are obliged to provide a safe working environment, which should include to some extent ensuring that staff, visitors and company assets are protected. The specific requirements are subject to a suitable risk assessment being carried out, which will determine the type, and level of security and protection that may be required. The workplace security system should protect the core assets of any business; its people, processes and property.
Most security measures in a business will provide a mix of electronic and physical security components. For example, an intruder alarm installation to protect premises and assets, which may also include personal attack buttons. All of these components can be monitored by an alarm receiving centre and can be set to deliver varied levels of response. It can alert key holders, security guarding patrols, on site security teams or at the pinnacle, a Police response. Physical security measures may include heavy duty and reinforced metal fencing, window grills and door shutters.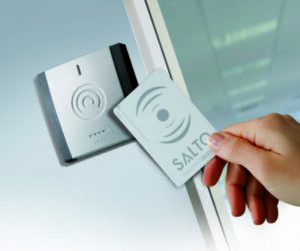 In answering the question, "What should I implement?" it really does depend on many varied factors such as the nature of the business undertaken, geographical location, value of assets and the value of stock held on the premises.
No matter what the components of the security measures comprise, those chosen must reduce or mitigate the risks identified, and where possible put the people in the business at ease, and offer the right level of safety and protection.
Employees need to trust that the system is functional and effective, and a would be intruder needs to see robust security measures that serve to deter them from attacking your building, and its people, stock and assets.
The following are some of the most commonly used workplace security measures:
Controlling access to the premises
Installing an access control system, whether you chose a system operated by access code, voice, keycard or fingerprint you will have a means of allowing controlled access and where required controlled exit from your premises.
This not only helps with fire safety regulations but also enables you to restrict access to certain areas. A networked PC based system will allow roll call functions of people who have entered and exited the building, giving you live data and numbers of employees and visitors in the building.
In most cases, these systems are simple to use and require minimal (if any) staff training. These are also very easily managed. Overall, access control equipment ensures that only authorised personnel have access to given locations within the business.
If used responsibly, access control equipment is not intrusive and will create a safer working environment and discourage theft.
Protecting workplace equipment and possessions
This point is crucial; we have all been in workplaces where either company or personal property has gone missing. The negative atmosphere generated is both unpleasant and counter-productive.
There are security measures that can be applied to lock down equipment and ensure their subsequent traceability, but we also advise lots of staff training with regards to how they should store company equipment as well as their own personal belongings. Some companies will provide lockable storage solutions.