On Monday 9 May, two HGV drivers from Derbyshire left Ron Brooks Toyota in Ilkeston to embark on a 1400 mile journey to Benidorm to raise over £1,500 for The Air Ambulance Service charity.
Instead of their normal HGV lorry, Lee Bellfield and Paul Ewing, nicknamed 'Belly & Paulo" tackled the route in a 2005 Toyota Corolla Verso donated by Ron Brooks. The pair travelled to Dover, and set sail for France, took a pit stop for a photocall at LE MANS, before crossing the finishing line in Benidorm on 14th May.
Lots of local companies have contributed sponsorship including fire and security system installation and maintenance specialists, Tecserv UK. On completion of the challenge, £1530.00 has already been raised and it is hoped that even more will be donated by the time the justgiving page closes.
The Air Ambulance Service operates emergency helicopter services to help get injured people to hospital quicker and hopefully decrease the risk of bereavement through trauma. Lee has first-hand experience, as his wife's grandpa was airlifted to hospital following a medical emergency and this was his motivation for arranging the challenge.
Commenting Lee said, "When your job involves driving day in, day out, you quickly realise how dangerous the road network can be. I have seen many serious accidents and realise that if you get injured in a traffic accident, time is a critical factor.  The Air Ambulance Service plays a crucial part of the emergency response and very often makes a lifesaving difference when patients need to reach hospital quickly. However, as a charity, they rely entirely on donations to help them keep flying these missions and we are grateful for all the support and donations we have received!"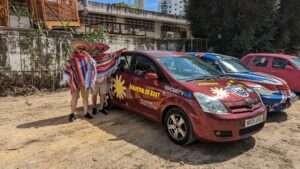 Colin Milligan from Tecserv UK added, "Our service engineers are based UK wide and on-call 24/7 365 days a year helping our clients ensure their fire and security systems are protecting their people, processes and systems effectively. This means they need to travel our road network. We are delighted to support this challenge and raise money for The Air Ambulance Service as you just never know when this life-saving service might make a difference to the survival of one of our colleagues, friends or family members."
'Benidorm or Bust' is a well renown challenge and each year many individuals and car rallying enthusiasts organise their own competitions in aid of their chosen charities. Participants arrange various obstacles and treasure hunt teasers that they must achieve as they travel towards their destination. Once in Benidorm the vehicles are sold off or scrapped following completion of the proper paperwork.