As a growing business, we are always on the search for additional fire and security service engineers who we can train, or those who are already fully qualified and can hit the ground running.
For most young people leaving school, or those from an electronics or engineering background it would probably never cross their mind to consider using their transferable skills to pursue a career in our industry.
With this in mind, we've interviewed a couple of our service technicians to get their view on what it is like working for Teccserv UK and the vital role they help play in ensuring fire, intruder, access control and CCTV systems are correctly maintained and operating effectively to ensure the people, processes, property they are protecting remain safe.
For over 20 years we've provided expert advice on fire protection and building security, delivering exceptional customer service, quality products and support from our expert team. Many leading brands and retailers, manufacturers, hotels, restaurants, education providers and heritage building owners trust Tecserv.
Many of us joke about the North and South divide, but to prove this is not the case at Tecserv UK we interviewed Danny White who is a Senior Engineer based in the South and Mike Hare who is a service engineer based in the North of the UK.
Mike Hare
"I've worked for Tecserv for over 6 years, and the great thing about my career is that I face new challenges every day and get to experience a wide variety of clients of all sizes and in a range of different industry sectors. 
I've found that Tecserv offers a really friendly working environment even though as engineers we mostly work independently. The best thing is that our workflow is very well organised because we have excellent IT systems.
I would recommend the role to anyone who has a good understanding of electronics or a wide scope of knowledge of fire and security systems.
The days can be long, but rewarding. I mostly work directly from home and will leave between 7am and 8am and drive in a company vehicle to my first job which is usually the routine maintenance of a system or a callout to diagnose and fix a system fault.
Depending on the nature of the jobs I have booked in, I can be at a single client premises the entire day or I'll do 4 to 5 small jobs in close proximity to each other.
No two days are the same as every day means new faults and new sites. There is always help on the phone if needed from senior engineers, supervisors and technical support. Albeit, because I have been on various system specific training courses related to the make of alarm Tecserv maintains I can usually remedy most issues myself-  but it's nice to have the help if it is required.
I usually finish work around 5 and 6pm having gained great job satisfaction from my work and the relationships I have built up with the client I visit."
Danny White 
"I have worked at Tecserv for ten and a half years which I think shows how much I enjoy my work and the fact Tecserv values my loyalty. The variety in work and client type means that every day is different. Different sites, different people, different systems. It helps keep the job interesting, even after 10+ years. I also find the service team has a good appreciation of the work involved in the jobs that are allocated and also respects the journey time between appointments.
Working for a smaller company also means that everyone knows each and is supportive – you're not just a number. This helps develop relationships with all departments within the company, which makes the job easier and more enjoyable on a day to day basis.
There is also lots of teamwork. Particularly recently, when there has been a need for Northern and Southern engineers to develop a closer relationship – it's clear there is a real sense of camaraderie amongst the current engineers.
One of Tecserv's core values is reliability, and I respect management for their quick action dealing with engineers who continually turn up late to jobs, or have lots of 'sick' days. (The reality is they don't last long!). This behaviour simply isn't tolerated which I think is a good thing as it means everyone is pulling their weight and being supportive and so we have lots of happy clients.
This also means there is a lot of trust placed in us to organise and manage our time. We are largely required to book in our own work, which I like as it means I can usually plan my day around being back in time for evening activities. However, this means anyone new to the role will need to be able to organise themselves and maximise their time to keep on top of their work.
Sometimes there are some early starts and/or late finishes but this happens whoever you work for. The good thing with Tecserv is that this extra effort is visible to management and I never feel it is taken for granted."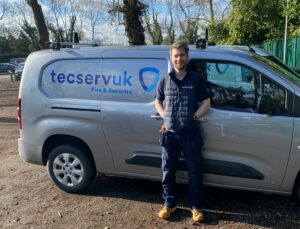 Could a career as a fire & security service engineer be right for you?
Much of our success is due to the quality of our service and the can-do attitude of our team. We don't just recruit based on skills and qualifications, we look for team members who are committed to achieving our customer service promise.
If you'd like to explore the opportunities available to work for Tecserv and maintain fire and security systems for leading brands such as The Ritz and Bulgari Hotels, The Pinewood Group, Harvey Nichols, and M&S, please fill in the form on our careers page.