We are delighted to announce that as an approved systems integrator for Siemens' fire protection systems we can install and maintain their latest new product. The Cerberus FIT range has been launched to protect small to medium-sized buildings such as primary schools, care homes, shops, offices, hotels and small factories.
The launch of the new version of the Cerberus FIT fire protection system means that Siemens has expanded its offering for the small to medium-sized buildings market. Cerberus FIT maximizes fire safety, reduces cost and provides false alarm free protection by providing a comprehensive portfolio of detection, control and alarm devices.
The system enables the connection of up to 252 devices on two detection loops covering up to 32 zones thus making the product ideal for small to medium-sized buildings.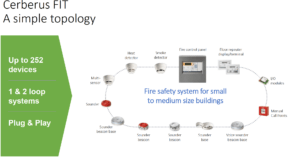 Each device is loop-powered to save installation cost and maximises protection by including a short circuit isolator so that no devices are lost in the event of a single wiring fault. A range of fully approved addressable sounders and Visual Alarming Devices (VAD) and up to 64 evacuation sones allows local alarming concepts to be programmed into the system providing a flexible solution for flats and HMO's.
Commenting, Tecserv UK Sales Director Colin Milligan said, "The new version of the Cerberus FIT control panel comes with an intuitive interface, including LED indicators with self-explanatory icons and an easy-to-read display. This avoids extensive training and allows on-house facilities managers to perform simple operational tasks on their own, without the help of experts. This means our engineers can focus their time on helping clients ensure their systems are well maintained and helping them to ensure all supporting policies, training and processes are fully understood and practiced by building occupants."
Thanks to its auto-configuration feature, the Cerberus FIT control panel detects and automatically reads-in all connected devices, providing immediate and simple operation. The integrated 'Panel Configurator' enables the configuration to be changed quickly and easily on a PC or laptop, without additional software.
Siemens Regional Sales Manager Suzanne Byron added, "Tecserv UK is a BAFE approved company and ensures that all its service engineers are fully trained and keep up to date with new technology. Their Midlands location and their commitment towards offering the best quality solutions and fire safety advice makes them an ideal distribution partner for our products."
Tecserv UK is an approved distributor and has supply arrangements with most of the leading manufacturers of fire, alarm access control and CCTV surveillance equipment. If you would like to know more about the Cerberus FIT range please get in touch.