Nothing fascinates us more than looking back on the history of fire safety equipment and how it has evolved over the ages. Our marketing manager recently visited Warwick Castle and came back with these photographs which illustrate the contrast of old and new and shows just how far technology has advanced over the ages.
By way of background, Warwick Castle is a medieval castle developed from a wooden fort that was originally built by William the Conqueror during 1068. For many of the following years it was used as a stronghold until it was granted to Sir Fulke Greville by James I in 1604. It was then converted into a country house by the Greville family (who became Earls of Warwick in 1759) and more recently it was bought by the Tussauds Group in 1978 who turned it into a visitor attraction. It is now owned by the Merlin Entertainments.
Over this period, the castle has amassed many very valuable and historic points of interest which are now on display. This include medieval suits of armour, portrait paintings, wall décor and murals, examples of clothing, furniture, fine silk drapes and many historic documents, photographs and records that are totally irreplaceable. It is these unique items which mean the protection of historic buildings from fire requires expert knowledge.
Fire Hose Reels
The first most noticeable items of equipment were the canvas hose reels mounted adjacent to water faucets, which would most probably have been connected somehow to the moat. Both water and fire are likely to cause irreparable damage to historic and irreplaceable artefacts, art masterpieces, antique furniture and décor. Very rarely now do you see fire reels fitted within heritage buildings except for show. For this reason, nowadays, when protecting heritage buildings, the focus is really on early detection and avoiding the risk of fire.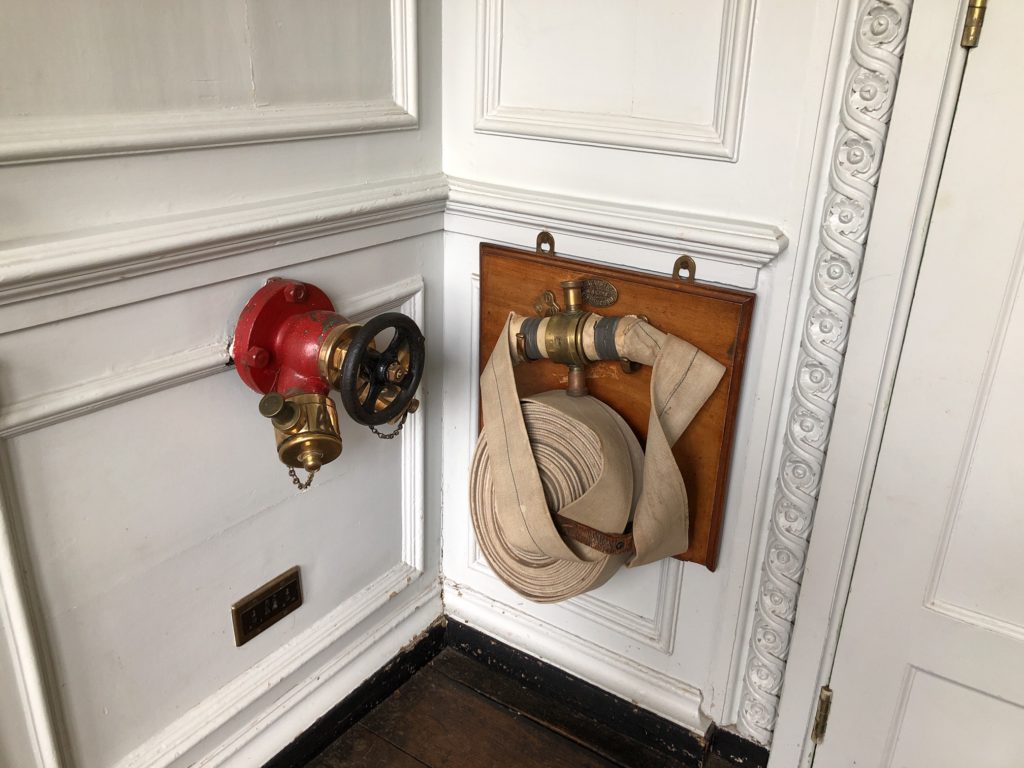 In modern commercial buildings the preference now is to install water sprinkler systems or water mist fire suppression systems that can be set to only activate in the areas where the fire detection devices have triggered the signals of fire. In heritage buildings, it is highly unlikely that sprinkler systems will be used as they would cause too much damage to precious artefacts. Hence the focus on fire prevention and early detection.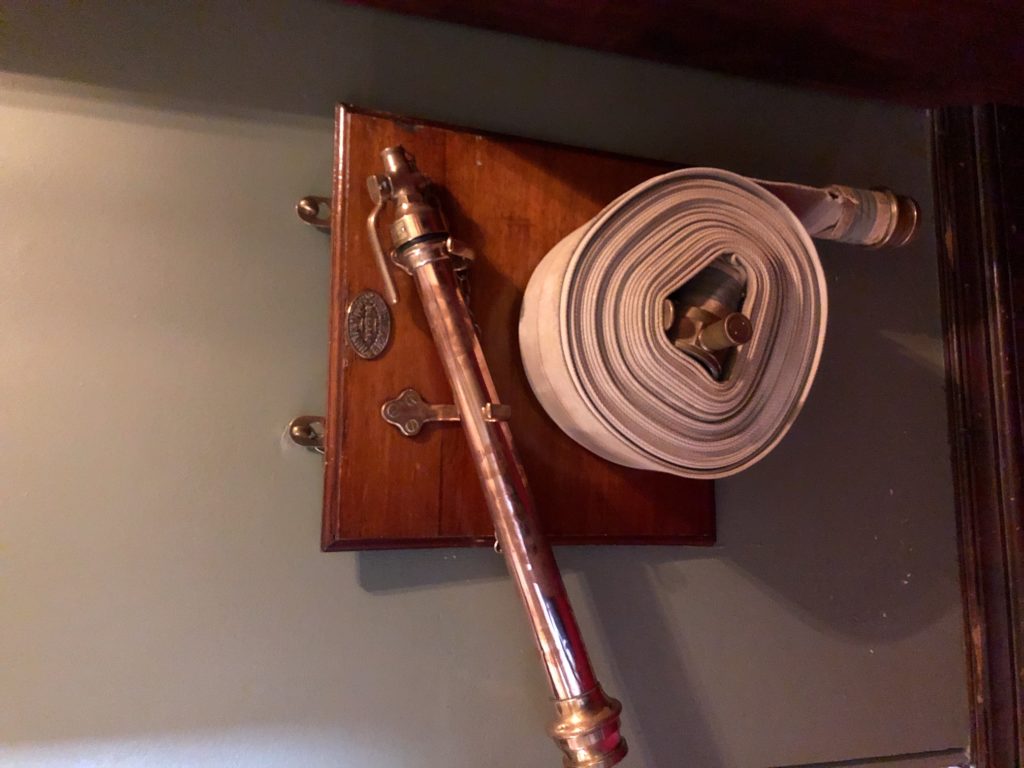 Maintaining authenticity
Whilst Warwick Castle is not a Tecserv client, we do have plenty of experience of protecting historic buildings and museums such at St Pauls Cathedral, National Trust Houses and other listed buildings. Therefore we fully understand and appreciate the need to ensure modern cabling, fire detectors and call points do not detract from the authenticity of the building features and spoil the visitor experience. This is why lots of heritage building owners prefer to have a wireless fire alarm system installed, although sometimes the thickness of the walls means even this is not possible as the solid stone walls means that wire frequency signals can't be detected.
Fire Extinguishers
Next up was the contrast of fire extinguisher. Nowadays we have various types of fire extinguisher depending on the accelerant that has caused the fire. We now know that using the wrong fire extinguisher can actually make a fire worse. In this picture you can see that a wooden barrel was affixed to a wheeled metal sack trolley and a simple bucket would have filled from the barrel in order to throw water to douse the fire.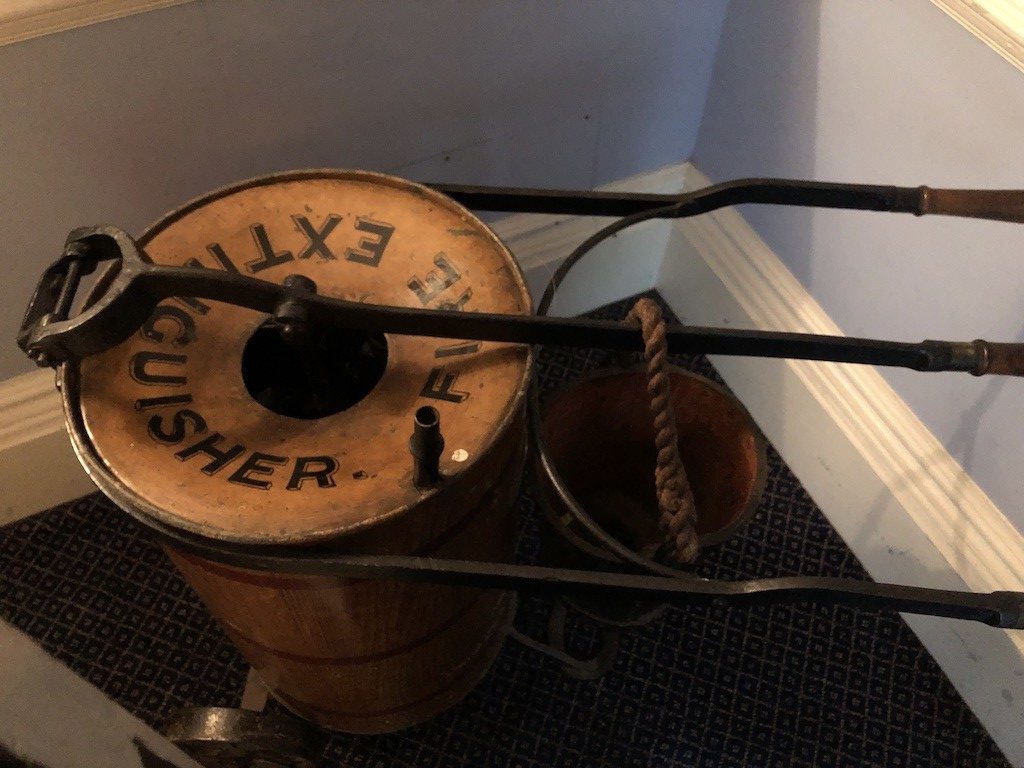 How many of these would need to be dotted around a castle of this size and imagine the number of times servants would have been running up and down from the moat to refill them, the time delays allowing the fire spread! It is no wonder that in nearby Stratford Upon Avon there was a rule that all fires had to be out 8pm in order to ensure chimney sparks did not set thatched roofs on fire as people slept!
The preservation of heritage and listed buildings for the enjoyment of future generations is of paramount importance. None of us wish to read stories of beautiful buildings being destroyed by fire and their contents, which are often irreplaceable, lost forever. Having worked in association with English Heritage and The National Trust on a number of their properties, Tecserv UK fully appreciate the challenges of working on heritage and listed properties.
Can we help protect your heritage building from fire?
We have learned a number of techniques that are acceptable in providing the balance of safety and compliance with the retention of building integrity. If you would like to learn more about how we can help protect your heritage building please get in touch  or complete the enquiry form below.